Meal
What's Good about Meals at Gakusei Kaikan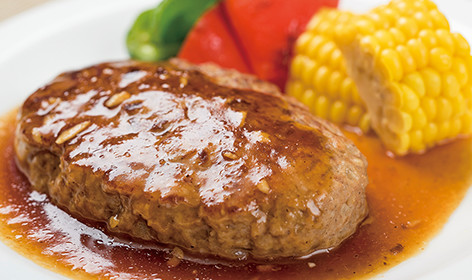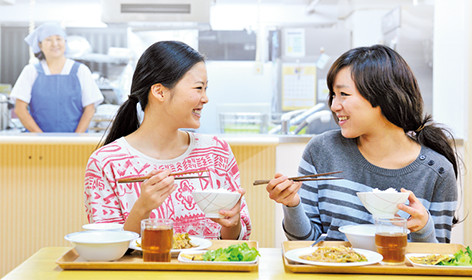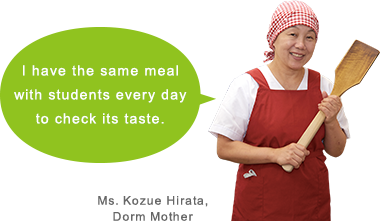 Meals Are Hand Cooked by Dorm Mom Every Day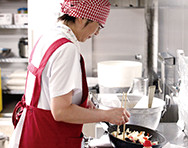 Every meal at Gakusei Kaikan is hand cooked by the dorm mother with her whole heart, based on recipes created by a professional registered dietitian. So, homey warmth and balanced nutrition coexist in meals enjoyed every morning and evening. We support students' healthy daily lives with these loving meals.
Two meals, breakfast and dinner are included in rents.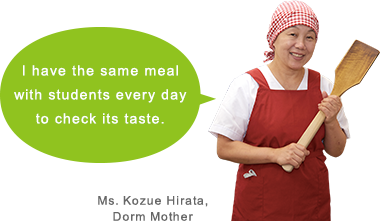 Not Only Delicious But Also Well-balanced
Menus Planned by a Registered Dietitian
A registered dietitian plans your daily menus, considering students' opinions. In addition to the taste, the dietitian considers also the nutritious balance for your meals, so that you will be able to spend a healthy college life. The meals come in a wide variety to avoid putting students off their food by eating the same things every day.


In Pursuit of Food Safety, Freshness and Variety

Focusing on seasonal ingredients, we try to offer delicious in-season food. Ingredients are delivered in a refrigerator truck to each Gakusei Kaikan every morning, so that the ingredients are kept fresh and tasty. To deliver fresh ingredients with quality, we persistently make good use of freezing and refrigerating techniques for transportation.
Of course, food safety and the hygiene situation are also well managed.

A Health Race: "With or Without" Meals
Meals are very important in a daily life. Healthy and delicious meals make a big difference in your college life. Let's look at an example
- Girl A and Goy B - to see what big differences meals can make in their future lives.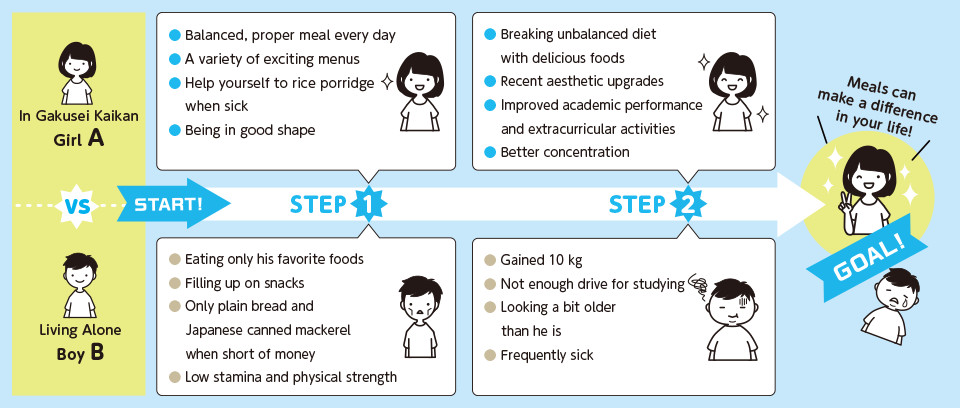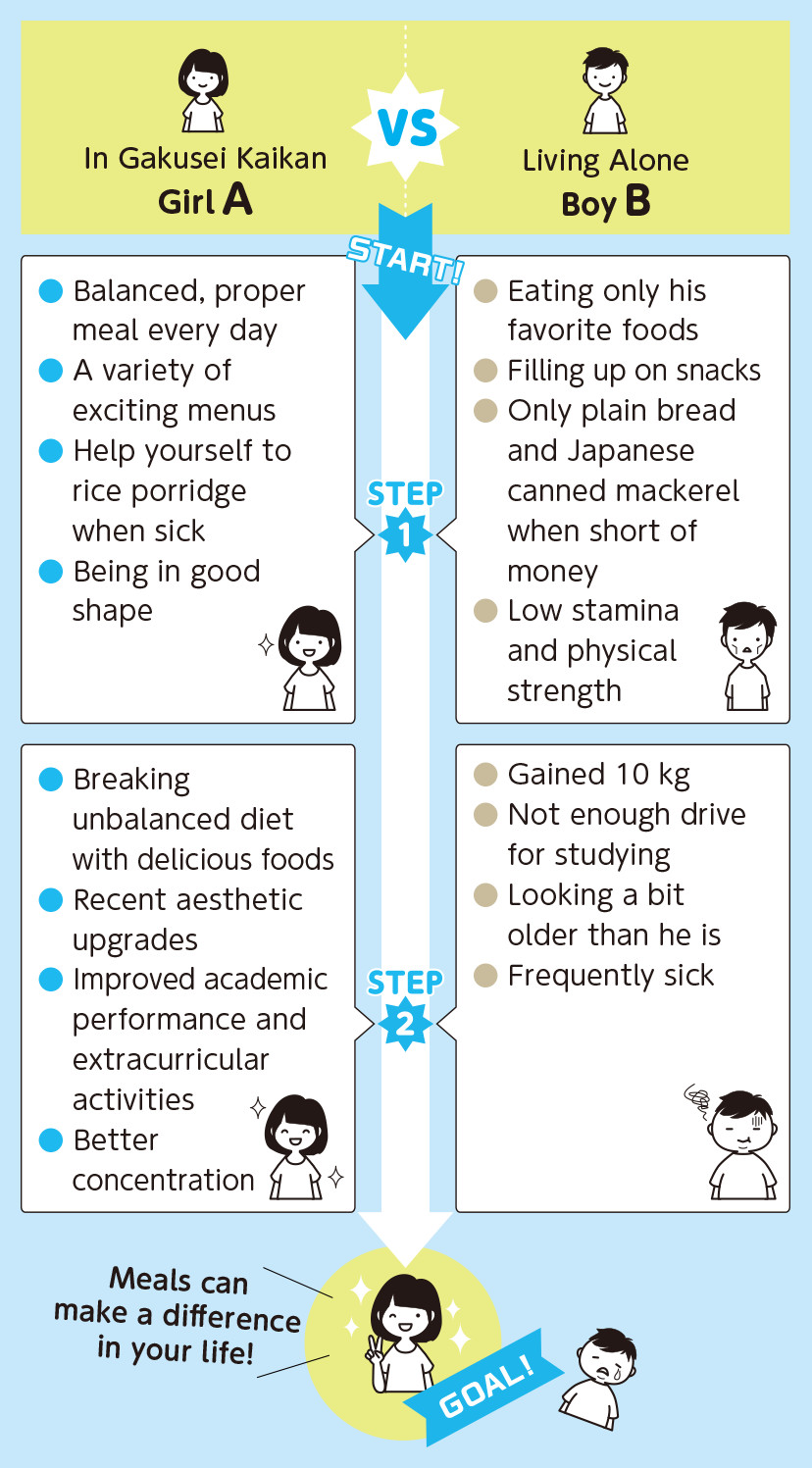 Dinner Menus Popular Ranking!
We took polls from students about their favorite menus. Curry and rice took the first place, as expected! Its taste and unlimited helpings gathered the votes of big eaters. Then, hamburger steak and pork cutlet followed. Both meals are very popular classics!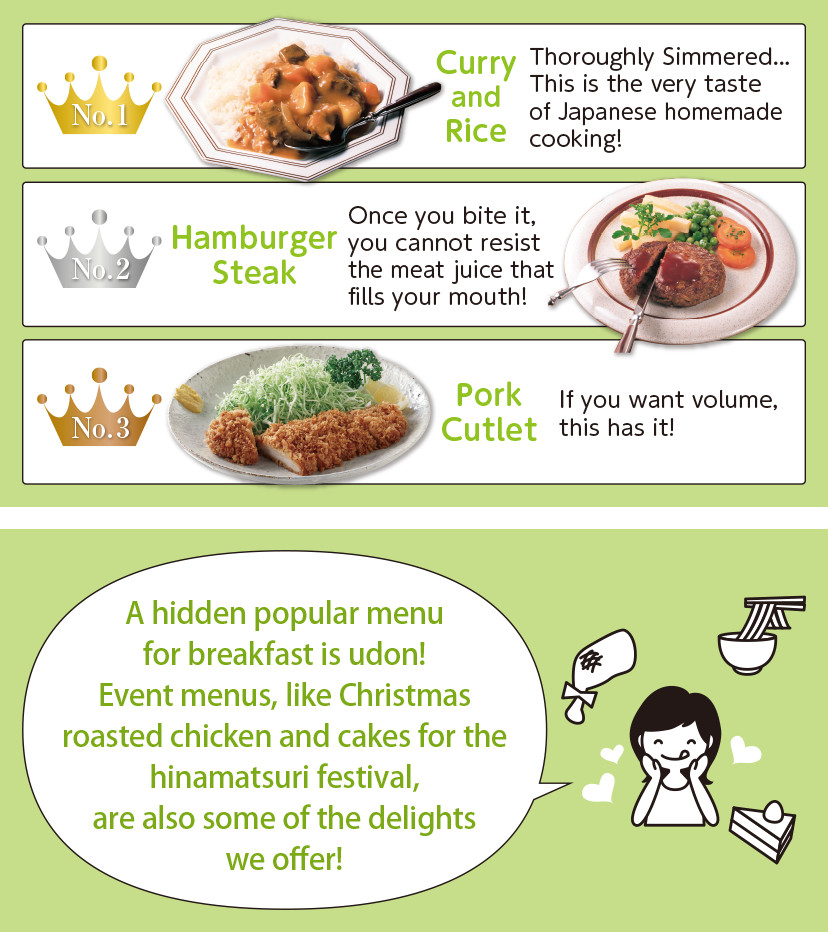 Safety
Manager & Dorm Mom Support Your Dormitory Life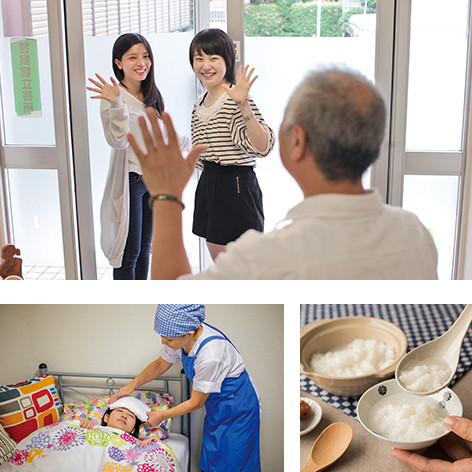 You will feel secured even when you catch a cold. Dorm Mom will hand cook rice panorridge to help you recover quickly.
Through Disaster-Prevention Measures
Thorough countermeasures are in place including provisions of disaster prevention equipment and AED and organization of fire drills, with Mr. and Mrs. Managers playing a central role, to prepared for every eventuality.
Mr. and Mrs. Manager Live in the Dorm
to Support Totally Your Daily Lives
The Manager and Dorm Mom are also living in Gakusei Kaikan to support your peaceful living. When you are sick, they will take you to a hospital, and when a package is delivered while you are out, they will receive and keep it for you. In addition, crime prevention measures are perfectly taken, including the auto-lock system at the entrance.
Moreover, the entrance is equipped with an auto-lock system and crime prevention seminars are also organized. With full-time support by Mr. and Mrs. Manager, the crime prevention measures are perfectly taken.

Manager and Dorm Mom Are Your Other Father and Mother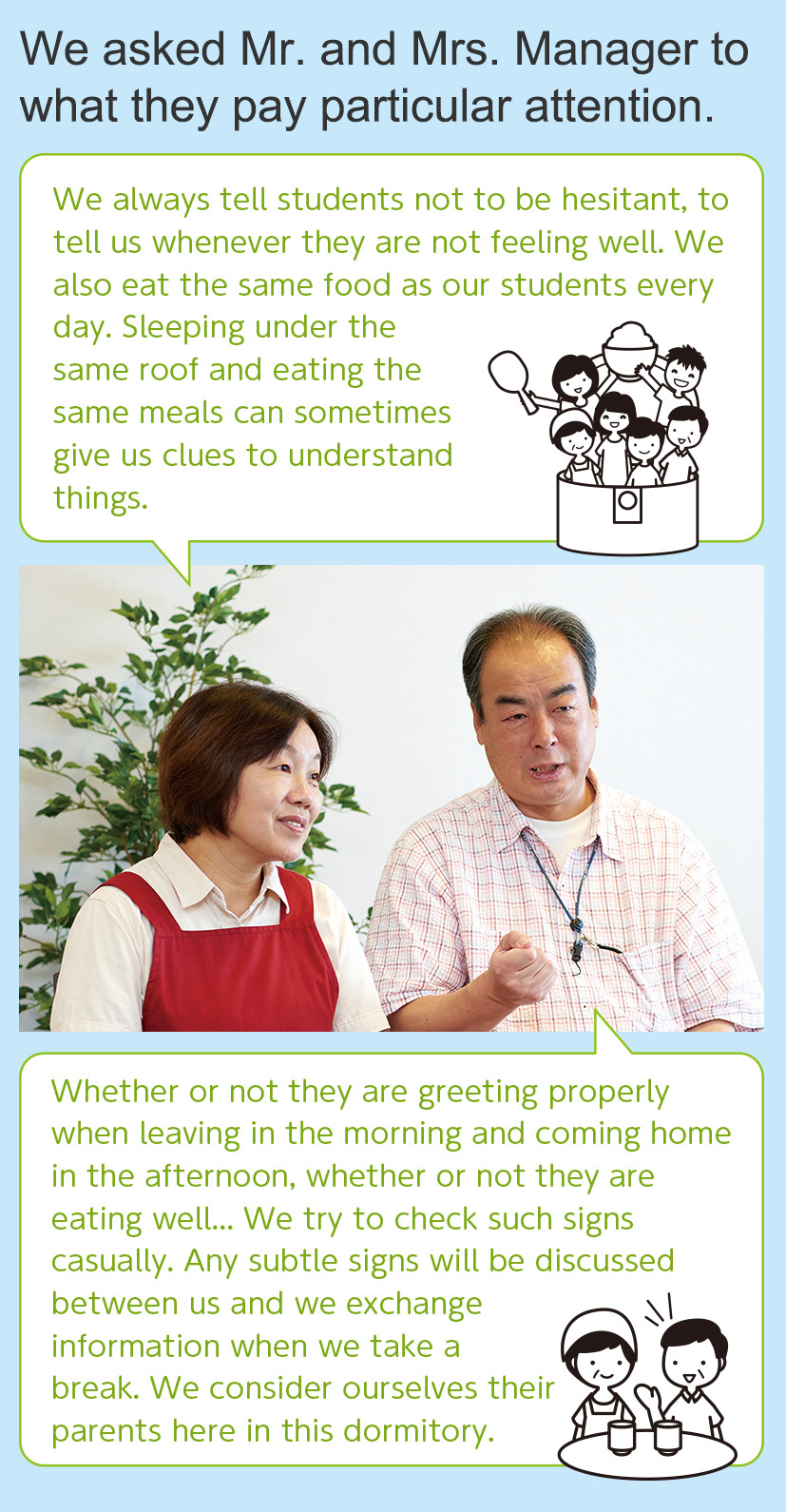 Facility
Gakusei Kaikan Is a Fully-equipped Facility!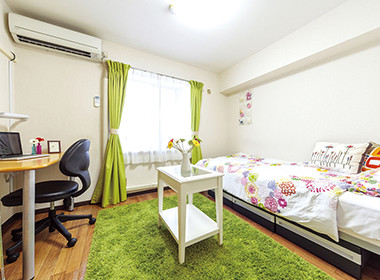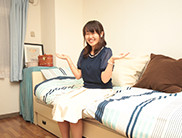 The facility is fully equipped with furniture and other equipment necessary for students' everyday lives. All you need is a bag of your belongings to start immediately your new life in the dormitory. Thus, you do not need to move a lot of luggage and it is very economical. Necessary facilities, including dining and laundry rooms are all within our dormitory, so you are secured with ample room for yourself, and less bothered with cleaning.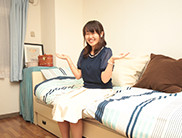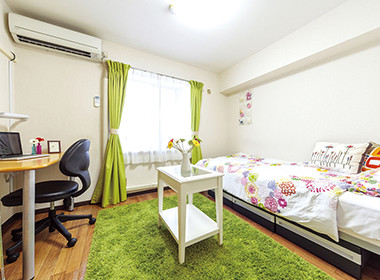 Communal bath

Laundry room

Kitchen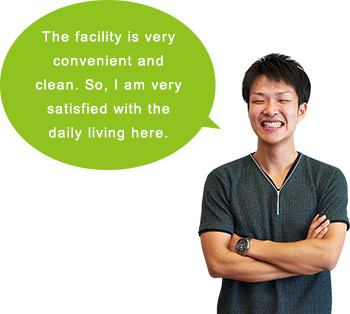 Good Friends in Gakusei Kaikan